I was on kitchen duty last week and cooked three dinners. I'm not sure I've cooked three dinners in a month before now. I think I'm finally getting the hang of grilling. Kitchen cooking is still sort of a black art, but the grill really is making sense.
Monday
Grilled barbecue chicken breasts
Baked sweet potato fries
Steamed broccoli/cauliflower mix
Bacon-wrapped steak medallions
The steam-in-bag style veggie bags from your supermarket's frozen section are great. The bacon-wrapped steak was pretty tasty, but probably not something I'll bother with a second time.
Tuesday
Flounder
White rice
Yellow squash
I'm really surprised this one turned out — I've never cooked fish or squash, but they both came out pretty good, even on the stove. Think I need to get a fish basket for the grill, though.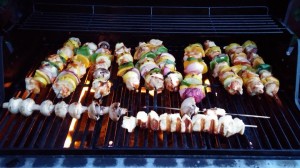 Wednesday
Grilled chicken kabobs with green and yellow bell peppers, red onion, yellow squash
Mushrooms
Halloumi cheese
If you want halloumi kabobs, make sure to lay the skewer right on your grill. Don't use one of those kabob racks that suspends the skewer above the cooking surface. The cheese will melt oddly as it cooks and end up dripping down between the bars. You can't rotate the skewer, either, since the hole in the cheese will expand around it.
Actually, I think I'm going to get rid of the rack I have. I can't think of any reason to use it over plain wooden skewers laid right on the grill. Maybe if I were doing them in the oven? But I think I could just use a broiler pan in that case.
Oh! I also had some Dead Guy Ale from Rogue Brewery. That was great, too. Paired well with grilling.