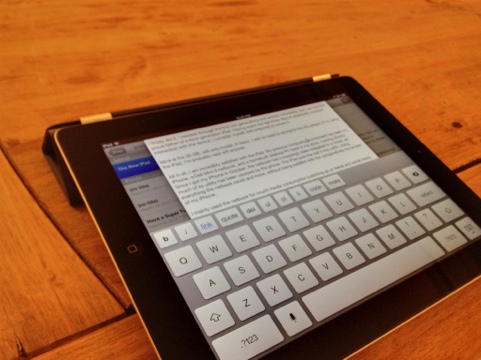 I finally did it. I resisted through the first two generations (not entirely voluntarily), but I am now the proud father of a third-generation iPad. Having spent the last three days in essentially constant interaction with the device, I consider myself well-prepared to review it.
Mine is the 32-GB, wifi-only model, in black. I see no need to spring for the 4G version; if I'm using the iPad, I'm probably near wifi anyway.
All in all, I am incredibly satisfied with the iPad. My previous computing environment has been my iPhone, a Dell Mini 9 netbook, and a homebuilt desktop PC back in my study, running Ubuntu. Since I got my iPhone in October, the netbook has increasingly been relegated to a closet, as much of its utility has been usurped by the phone. The iPad puts the nail in the coffin, doing everything the netbook could and more, without being saddled with the comparatively tiny screen of my iPhone.
I mainly used the netbook for couch media consumption (catching up on feeds and social media while watching sitcoms with my wife, etc), and went to the PC in my study for production (coding, writing blog posts, and so on). This weekend, that dynamic changed a bit. The iPad does all the media consumption activities adroitly, of course. Between the browser and activity-specific apps (Netflix, Feeddler RSS, and such), my infovore habits are well-fed. At the same time, the iPad is perfectly workable for production. I wrote multiple blog posts on it this weekend, with no real hindrances. The on-screen keyboard is surprisingly easy to get used to, and the iOS spellchecker is good at catching the few mistakes that get through; I feel like I have not lost any speed at all, compared to a full desktop keyboard. One complaint is that it could have more punctuation on the primary keyboard, under long-presses or the shift key; writing HTML tags was painful, since < and > are two layers deep in the symbols menu.
The screen is beautiful. I saw little to no pixelization; only in a few apps that obviously used raster graphics and fonts instead of vector (SpringPad, I'm looking at you!). Even the few iPhone apps I have installed look quite nice in the 2x zoom.
The battery lasts a suitably long time. I opened the iPad's box at about 2:30 on Friday afternoon, and used it straight through without charging until I went to bed at 1:00 am, when it still had 10-20% charge remaining. Saturday and Sunday brought similar experiences. The downside of such capacity, though, is in charging time. I can plug my iPhone in over lunch, and it will fully charge from nearly empty. The iPad only gained 10-20% charge in that same time; it will need charged every night to avoid the hassle during the day. This is expected, especially if you look at iFixit's teardown and see that the tablet is essentially a giant battery (see step 21) with a touchscreen strapped to it, but it needs to be a consideration.
One huge downside of iOS is the lack of user accounts. I can understand ignoring that feature for a phone OS, but the iPad is advertised as a post-PC device; one thing that all PC OSes (including OSX) do quite well, is separating concerns by different users. I can install the apps I want to see, and my wife can install hers, and we don't have to step on each other's toes to do it. No such luck on the iPad. For instance, we are both caught up in the Draw Something craze, and both want to use the iPad to play it (due to the far larger screen than our iPhones), but there's no easy way to do that. We ended up installing both the paid and free versions of the app, and each signed into one version to use it.
The new iPad is, of course, very fast and smooth-feeling. I haven't noticed any slowdowns, even compared to similar tasks on a desktop PC. everything just works, and it does so quickly.
As a final negative, the audio is very quiet. Even in a silent room, alone, I have trouble hearing some things. The speaker does seem designed to take advantage of acoustics if you have the tablet laying on the right kind of surface, but on my couch that isn't always available.
Verdict: I am pretty much in love with my iPad. My netbook has become completely superfluous, and I am even less likely to sequester myself at my desk for production. I now have instant access to nearly any data source in a manageable form-factor on a beautiful display and with little regard for outside power sources. What's not to love?